World News - Breaking International News Headlines and Leaks
Designed to support and promote the condition of physical and emotional human health, the Green Health City proposal by Peter Ruge Architekten is an ecologically sustainable development located in China's Hainan Province, in Boao Lecheng on the Wanquan River. By establishing a cross-disciplinary and inter-cultural approach to design that is routed in China's long history, a comprehensive and well considered masterplan scheme is achieved. More images and architects' description after the break.
Five island districts bring together world-class medical facilities, employ new strategies for green energy production and rethink transportation networking to achieve a sustainable urban prototype. Pathways toward a sustainable future are forged through strong ties to local identity and respect for history.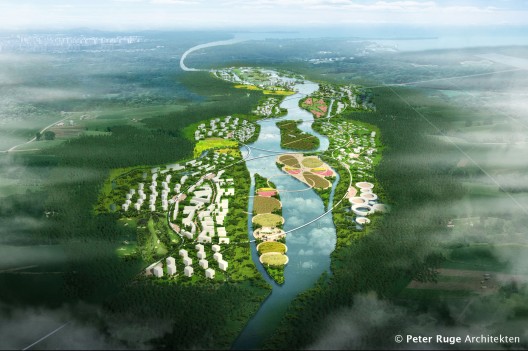 A system of design is guided by concepts related to; 5 Elements – City of Creation; 5 Organs – City of Health; 5 Senses – City of Communication; 5 Islands – City of Relaxation; and 5 Rings – City of…
View original post 341 more words